Rock 'N Roll Case Study: Patience & Prudence
When you think of pop-star families, you normally think about the Jackson-5 or the Osmonds of the '70s, or even modern-day groups such as Hanson. But in 1956 when rock 'n roll first started to make inroads on the record charts, one of the first sibling groups appeared. I'm talking about the one-hit-wonder sister duo of "Patience and Prudence".

---
Patience & Prudence
One Hit Wonders of 1956
By Ronnie
<![if !vml]>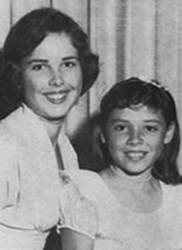 <![endif]>
Above: Prudence McIntyre (left) and Patience McIntyre (right) at the height of their chart success.
It's funny how the internet can answer even the most trivial little questions you have. A few weeks ago, I was channel surfing and came across an old favorite from the '70s - Steve Martin's comedy movie, "The Jerk". During one (semi) serious scene, Steve Martin and Bernadette Peters sing a night-time duet on the beach. The song in question is a little ditty called, "Tonight You Belong To Me" (and NO, it is not the Paul Stanley song on his KISS solo album by the same name!). The song sounded nostalgic, like a 1920's classic, in which Martin played Ukulele and Peters accompanied on flugelhorn. Well, at the end of the movie I watched the credits for the song writer and then did a quick search on the internet.
Turns out I was right, as "Tonight You Belong To Me" (words & Music by Billy Rose & Lee David) as performed by Gene Austin first hit the charts in the 1927. But, then came the surprise: it was also a top 5 hit by the one-hit-wonder group, Patience and Prudence in 1956. Yep, they were up there on the charts alongside Elvis Presley! Although their follow-up single charted at #11, their subsequent singles failed to chart and the singing duo quickly disappeared into the "where are they now files".
Patience & Prudence were actually sisters and the daughters of orchestra leader Mack McIntyre. Patience (11 years old) and Prudence (14 years old) McIntyre were encouraged by their father, who was already a well know piano player and songwriter (who also co-wrote the B-sides of their two hits). Mack McIntyre brought his daughters into the Liberty Records recording studios in Los Angeles in the summer of 1956. One of the songs from their audition tape was a cover of the 1927 hit by Gene Austin called, "Tonight You Belong to Me".
Liberty Records (also the home of rocker Eddie Cochran) signed "Patience and Prudence" and rushed the tune into distribution. The bouncy song became a hit, charting at #4 in September of 1956 and became Liberty's biggest selling record for two years. Their follow-up single, "Gonna Get Along Without Ya Now" charted at #11 at the end of '56. The B-side, "The Money Tree," also charted. But alas, Patience and Prudence enjoyed no further chart success when six additional singles released between 1957-59 failed to chart. Since the 1950's was basically a 45rpm market, it is no surprise that there was no Patience and Prudence album. Here is a little trivia for you folks- the Patience and Prudence version of "Tonight You Belong To Me" was the #34 song for all of 1956, in addition to placing at #428 among the top 5,000 songs of the rock era (1955-94).
So, what happened to the two sisters? On the internet I find nothing about the sisters after 1959. Who knows, maybe they decided that the "music thing" was just a lark and they faded into normal suburban bliss. Their "normal" life in the 1950's after their hit record would obviously be too boring for an installment of VH1's "Behind the Music".
Where are they now?
A reader sent us the following info:
Back in the early 90's I saw them on some television talk show that came on one day about . The girls looked to be about 44 to 48 years old. If I remember correctly they said Ed Sullivan wanted them to perform on his popular TV talent show. Their dad flatly refused, and the record company and others wanted them to tour.
During this TV interview they were asked why they did not continue their singing. They became upset as they said the reason was their dad was very strict and wanted them to get a good education. I think they also said once they were old enough they moved away and would have nothing to do with their dad. I'm not sure if they went to college or not.